Recently, we hosted our "Let's Talk Startups" AMA Session (an online event) on "Effective Talent Acquisition Strategy for Startups." The response from the attendees was fabulous, as many startup founders came forward to share their thoughts with us.
The AMA session was hosted by Anshuman Sinha, co-founder of Startup Steroid. After a brief introduction, he began the show and interacted with the participants on how to hire the best resources for startups.
According to Anshuman, if you don't hire the right talents, your business can be delayed by three months. So, every startup needs to ensure that they hire the best talents who understand their work-related responsibilities and duties.
New to "Let's Talk Startup"? It is an online startup meetup platform that organizes weekly sessions discussing the complex topics of the startup world. "Let's Talk Startup" is on a mission to solve the problems of startup founders one meetup at a time and to build a stronger startup ecosystem.
Dmitry Redwolf, CEO and Founder of RedwolfMeta, spoke about his business and how he acquires talents. According to Dmitry, he hires professionals on a project-to-project basis from various places, including but not limited to South Korea, India, UAE, and California. He usually makes payments to them through cryptocurrencies.
Then, Sarah Dreamer of Delta Rising Foundation said, "I have a pretty passionate, motivating elevator speech about our fun and meaningful mission and how our community works together to meet that. I also try to make it convenient for them. I list through departments because they often have requirements."
Anshuman also explained the concept of PEO (Professional Employee Organization) and EOR (Employee of Record) and described how these HR firms are integral to hiring international candidates from countries where you may not be operating.
PEOs (Professional Employee Organizations) and EORs (Employees of Record) offer global expertise, risk reduction, administrative efficiency, scalability, and cost savings, in addition to facilitating international hiring and ensuring compliance.
Likewise, Wilson Jose was of the opinion that startup founders should hire passionate workers and train them to progress in their careers. That's what Wilson does for his startup.
Overall, it was an interactive session with several startup founders joining the show and sharing their thoughts with our mentor and AMA host, Anshuman Sinha.
In essence, talent acquisition is a critical component of any startup's success. In the early stages of building a company, the right team can make or break your business. Therefore, startups need a well-thought-out talent acquisition strategy to attract, hire, and retain the best talent.
Key Takeaways
Define Your Startup's Culture and Values
Before you can attract the right talent, you must first define your startup's culture and values. What kind of company do you want to build? What values are important to you? Having a clear understanding of your culture and values will help you identify candidates who align with your vision and are more likely to thrive in your organization.
Create Compelling Job Descriptions
Your job descriptions are the first point of contact between your startup and potential candidates. To attract top talent, make sure your job descriptions are clear and concise, showcasing opportunities, reflecting the growth potential for employees, and other benefits that your firm will provide to them.
Leverage Your Network
Networking can be a powerful tool for talent acquisition in the startup world. Reach out to your personal and professional contacts, attend industry events, and engage with online communities to tap into a broader talent pool.
Utilize Online Job Platforms
Posting job openings on online job platforms like LinkedIn, Indeed, and Glassdoor can help you reach a wider audience. Be sure to optimize your job listings with relevant keywords and a compelling description to increase visibility.
Implement a Rigorous Interview Process
Startups often don't have the luxury of time and resources to conduct lengthy hiring processes. However, it's essential to strike a balance between efficiency and thoroughness. Try to integrate the following steps into your interview process: phone screening, skill assessment tests, group discussions, and personal interviews.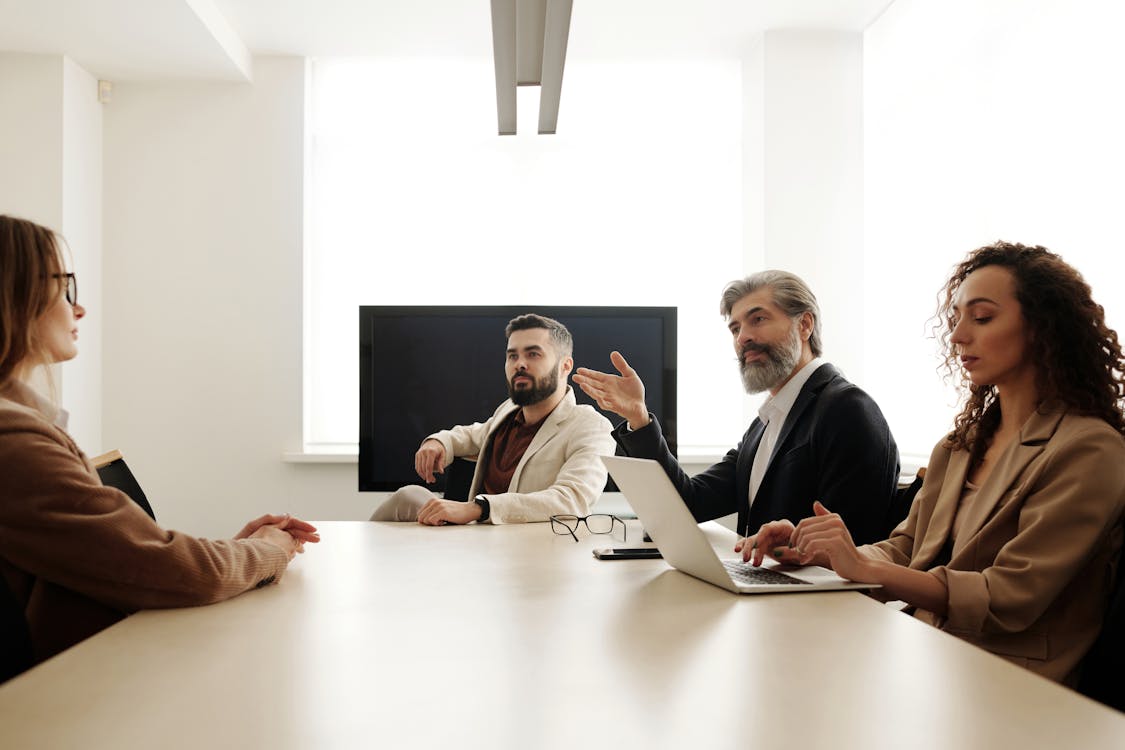 Offer Competitive Compensation
While startups may not always match the salary offerings of established companies, they can still attract top talent by offering competitive compensation packages. In addition to base salaries, consider offering equity, performance bonuses, and flexible work arrangements.
Your talent acquisition strategy should evolve as your startup grows. Regularly assess the effectiveness of your hiring processes and adjust them as needed. Solicit feedback from your team and candidates to identify areas for improvement.
In Conclusion
In the fast-paced world of startups, having an effective talent acquisition strategy is essential for building a strong foundation for growth. By defining your culture, creating compelling job descriptions, networking, utilizing online platforms, and emphasizing growth opportunities, you can attract top talent that aligns with your startup's vision.
You are not alone in this startup journey of yours. Join our weekly online Startup meetups to participate in our interactive Zoom sessions, share your experiences, and converse with experts. Check out the Zoom calendar for our upcoming meetings.